On Independence Day, we take time to recognize those who humbly and selflessly serve our country, and at times, give their lives for what we so often take for granted.  It was my honor to have an opportunity to visit with one Airman who taught me that giving up is not an option, and sometimes, there are second chances.
This year, Airman Trung Nguyen, of the Mississippi Air National Guard from the Combat Readiness Training Center, won the Warrior of the Year competition; but the road wasn't easy.  Nguyen was born and raised in Biloxi, Mississippi, and describes himself as a family-oriented person who loves spending time with family and friends. He said he reminds himself that God has a plan and tries to hold firmly to that mindset.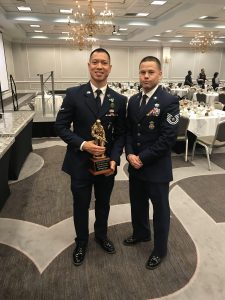 During his childhood, he dreamed of being in the military.  Nguyen says, "As a teen, I'm sure I had the same mindset as any other teen about the military. Join the military, do cool stuff, and travel the world. Through the military, you can obtain training, education, and discipline like no other organization can offer. To top it off, you're tasked with protecting the country. It's a noble thing to do."
Nguyen said, "I remember growing up, I didn't get the opportunity to partake in sports to help with social skills and leadership skills. I knew the military could offer that and more. I wanted to serve my country and do something that was bigger than myself. I wanted to be able to be a part of an organization that makes a difference in our society."
At the age of 13, Nguyen started working so he could buy his own clothes and supplies for school in order to keep the burden off of his parents. He said, "My parents did their best to care for us and gave us everything they could. I wanted to participate in sports, but I had to work to help my parents with the bills, so things didn't work out as I had planned."
In 2003, Nguyen joined the Navy.  While in basic training, he sustained an injury and was discharged six months later. He says, "I took it pretty hard when I was separated from the Navy. I was bitter but I learned that everyone has different experiences based on their circumstances. I began to channel my energy and stay positive. I told myself that I would recuperate and try again."
And, he did try again.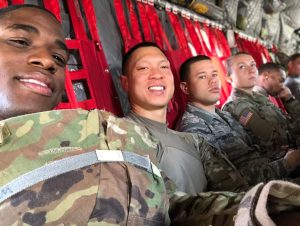 He started focusing on his health and exercising regularly. Nguyen said, "With a different mindset and approach on life I continued to work harder to become a better person."
In January 2010, he was hired with the Jackson County Sheriff's Department. Nguyen said, "I had a lot to prove to myself, so everything that I did with the department, I gave it my all. The sheriff's department gave me the foundation I needed to succeed."
Nguyen started in corrections with the sheriff's department, was soon promoted to patrol, and in 2013, he became an emergency service unit team member.  He is currently assigned to the fugitive operation division. He said, "My job entails apprehending violent fugitives. It's an honor and a great feeling to serve my community and country. Knowing that my actions and what I do on a daily basis does have an impact, and makes it all worth it."
In July 2017, Nguyen was in the process of taking a course to become a field training officer when he saw an old friend, Joshua Parker, who told him about the Mississippi Air National Guard.  He said, from that moment, he was hooked.  "I knew that this was my ticket for me to fulfill my dream. In the past, I tried several times to get back into the military but was always challenged due to my old injuries."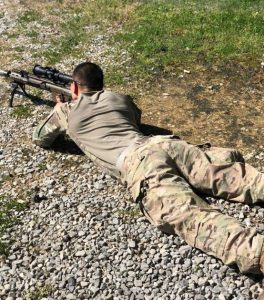 Nguyen began his paperwork to enlist in the Air National Guard in October 2017. Strong will and persistence paved the way for him to enlist in March 2018 as a security forces member. Nguyen said, "A security forces member is equivalent to a law enforcement officer on the civilian side; we enforce the military law, protect personnel, property and military assets. I knew this second time around I would succeed." 
He attended basic military training school from July 3, 2018, to August 24, 2018, and graduated as an honors graduate. At the beginning of September of last year, he began security forces apprenticeship school and graduated on December 17th as a distinguished graduate.
In April, Nguyen received the 2019 Best Warrior award.  The Best Warrior competition showcases soldier skills, physical endurance, and knowledge.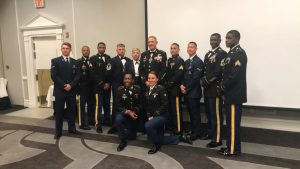 Nguyen says, "To begin with, it was a big deal to me to be nominated as a candidate to compete. I was nervous, excited, and happy at the same time. I was intimidated, knowing that I could possibly be competing with male and female soldiers that may have tons of experience. Going into the competition, I told myself I would be satisfied just to place. Winning the competition was a bonus on top of everything else."
Nguyen said, being a part of the Mississippi Air National Guard, has given opportunities that would not be possible.  "It's a dream come true." 
In my opinion, Airman Nguyen's second chance became our blessing.
Thank you to all of our servicemen and women for sharing their hearts of service to protect our liberty.  Today, and every day, we honor you.
Stay up to date with all of Mississippi's latest news by signing up for our free newsletter here. 
Copyright 2023 SuperTalk Mississippi Media. All rights reserved.