Another round of severe weather is expected Wednesday afternoon and evening.
The National Weather Service in Jackson says damaging winds of up to 70 mph and tornadoes are the primary concern.  The biggest risk is for residents in central Mississippi.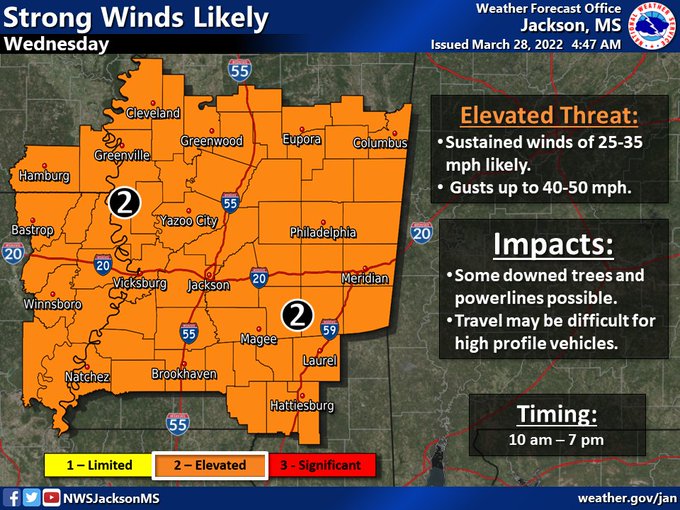 It's been less than a week since 11 tornadoes swept across Mississippi, damaging homes in 14 Mississippi counties. Three injuries were reported in the storms on March 22. One was in Clay county, another in Copiah County, and another in Holmes County.
Supplemental Nutrition Assistance Program (SNAP) households that experienced a loss of food due to the March 22 storms may request a replacement of SNAP benefits. If food purchased with SNAP benefits was destroyed due to a disaster, such as a flood, fire, or severe weather, households may receive a replacement of SNAP benefits.
Replacement benefits may be provided in the amount of the loss to the household, but no more than the maximum amount of SNAP benefits issued for the month. To request a replacement of SNAP benefits, households must report the disaster to their local MDHS office within ten (10) days of the date of the disaster.
The replacement request form (MDHS-EA-508) may be accessed online here. Households may submit the replacement request form by mail, email, or by uploading it to the MDHS website.
If you need assistance with this process, don't hesitate to contact the Economic Assistance Customer Service Center at 800-948-3050. Households not currently receiving SNAP Benefits may apply for SNAP through their county Department of Human Services Office or online.
Stay up to date with all of Mississippi's latest news by signing up for our free newsletter here. 
Copyright 2023 SuperTalk Mississippi Media. All rights reserved.