COVID-19 and severe weather have been the two constants in Mississippi in recent weeks, and that will likely continue tonight.
According to the National Weather Service, the entire state could be impacted with varying degrees of severity.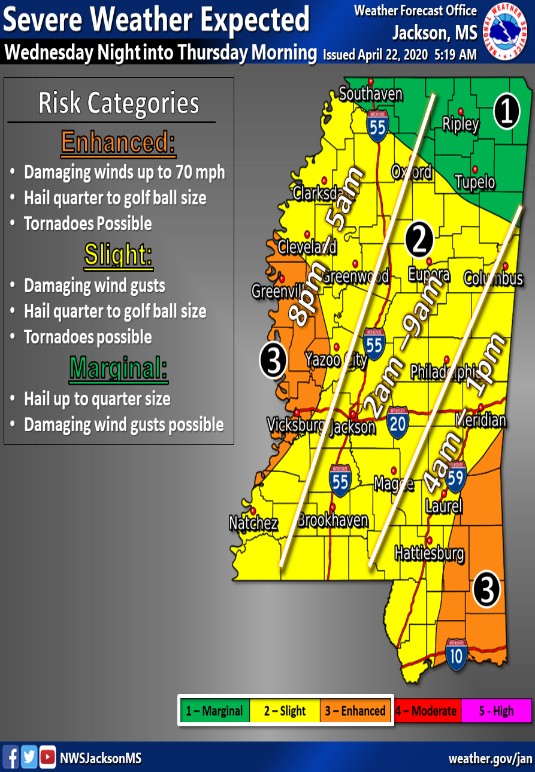 Localized forecasts can be found below.
North Mississippi:
"There is a risk for severe weather across portions of the Mid-South tonight. Damaging winds and large hail will be the primary hazards, but locally heavy rainfall and a brief, spin-up tornado are possible as well, mainly in east-central Arkansas and north Mississippi."
Central Mississippi:
"Severe thunderstorms are possible Wednesday night into Thursday morning. Isolated severe storms are possible as early as Wednesday evening in the west, but the primary threat will come late Wednesday night into Thursday morning. The primary concerns will be for damaging straight line winds and hail. A few tornadoes are also possible.
Heavy rain falling on very moist ground could lead to flash flooding Wednesday night into early Thursday morning, especially in the area extending from northeast Louisiana into central Mississippi where a Flash Flood Watch is now in effect."
South Mississippi:
"Enhanced Risk of Severe Weather Mississippi Coast Thursday, Marginal to Slight Risk of Severe Weather elsewhere."
Mississippi has been hit hard by severe weather two Sundays in a row. On Easter Sunday, over 1,400 homes were damaged in 34 counties and 14 fatalities have been reported. Several tornadoes, including two long-track EF-4 storms, have been confirmed from the severe weather event.
This past Sunday, one fatality was reported in Marion County after an EF-4 tornado touched down in the area.
Stay up to date with all of Mississippi's latest news by signing up for our free newsletter here. 
Copyright 2023 SuperTalk Mississippi Media. All rights reserved.