University of Southern Mississippi Executive Chef Joshua Cathey recently won first place in the Aramark Culinary Excellence Competition held at Auburn University.
The culinary expert competed against chefs from each corner of the Aramark Collegiate Hospitality South Region.
Cathey, a 2012 graduate of the university, will represent Aramark Collegiate Hospital at the National ACE competition in July. His winning dish consisted of blackened jerk fish atop coconut rice with citrus slaw and lime crema.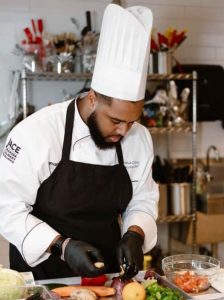 "I love bringing new flavors to our students, and ACE gives us the opportunity to put our creativity to the test and get inspired by fellow Aramark Collegiate Hospitality chefs from across the country," Cathey said.
Cathey earned his bachelor's degree in Tourism Management at Southern Miss and began his professional career in catering at the Lake Terrace Convention Center in Hattiesburg. He joined Aramark Collegiate Hospitality in 2016 as a catering chef with Eagle Dining at USM.
In 2021, Cathey was promoted to executive chef at USM and has assisted with Aramark's Culinary YOUniversity as a preceptor for the nutrition program on the graduate level and the cooking demos for students and groups in the community.
He is also on the culinary board for Hattiesburg High School focusing on giving back to the next generation of students interested in culinary arts.
Stay up to date with all of Mississippi's latest news by signing up for our free newsletter here. 
Copyright 2023 SuperTalk Mississippi Media. All rights reserved.