State Auditor Shad White has released a report arguing for changing the way taxpayer money is spent at Mississippi's public universities.
The report, which was teased by the state auditor last week and promptly met with scrutiny from skeptics, suggests that the state should prioritize certain college majors over others in terms of their economic impact in Mississippi.
"It's part of my job as state auditor to show you how your taxpayer money is spent and whether it's being spent wisely. In this case, it is not," White argued on Monday.
RELATED: State auditor responds to social media criticism over comments about funding for college majors
The report states that Mississippi taxpayers send public universities the same amount to educate both an electrical engineering major and an anthropology major, but the return on investment from one is more advantageous to the state than the other.
It points out that electrical engineering majors, on average, earn roughly $71,000 per year in their first jobs in Mississippi, while anthropology majors earn less than a third of that. The report also indicates that the engineering major is more likely to seek employment in Mississippi than the anthropology major.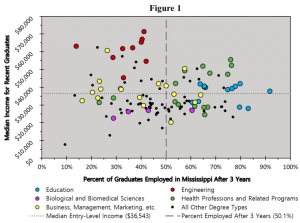 Critics of White's position on the matter have questioned the auditor's motives in issuing the report while also maintaining that the auditor's metric for determining which majors should be prioritized is flawed.
"Earning potential is one of the worst metrics I can imagine for shaping education," Mississippi College English and Philosophy professor Steve Price wrote on X. "But then, this isn't about educating all the people of Mississippi or meeting the wide-ranging needs of the state."
The report is part of a series on brain drain and its cost to the taxpayers from White's office. It notes that Mississippi has a severe labor shortage, according to the U.S. Chamber of Commerce, in some specific professions such as healthcare and business.
White's team asserts that taxpayer money should go to create more of those graduates and fewer graduates with degrees that are not as useful to Mississippi's economy.
"I'm not sure why a plumber who pays his taxes should have to finance a degree in gender studies in Mississippi," White said. "Frankly, some of these programs seem like they exist just to warp the minds of young people."
Opposition to this viewpoint challenges the role of government in determining the value of one higher learning study over another.
"It's not up to the government to dictate what educational field has value," another frustrated X user wrote. "Are you going to do away with music/literature because the musicians/writers don't make what doctors make? Keep your nose out of choice and the free market. Worry about theft and graft by your pals."
White asserts that students would ultimately benefit, in the long run, from policies in place that incentivize them to pursue a degree in a more financially lucrative field.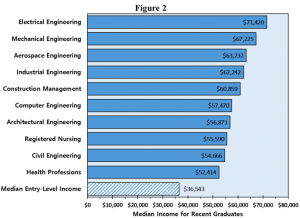 "It's more expensive for a university to hire a computer science professor than it is for a sociology professor who's an expert in stand-up comedy. The universities love it when kids go into the cheap programs," White stated. "But the kids often take on debt and can't get a job to repay the debt when they choose that kind of major. We need to change universities' incentives so they'll nudge students into high-value majors."
North Dakota, Texas, and other states are currently either considering or changing the way they fund universities to fit the needs of their workforce. The auditor is pushing for Mississippi to follow in their footsteps.
The full report can be viewed here.
Stay up to date with all of Mississippi's latest news by signing up for our free newsletter here. 
Copyright 2023 SuperTalk Mississippi Media. All rights reserved.