On Tuesday, September 14th, the Southwest Mississippi Community College (SMCC) Police Department and Pike County Sheriff's Office, executed a search warrant at at a residence in Magnolia.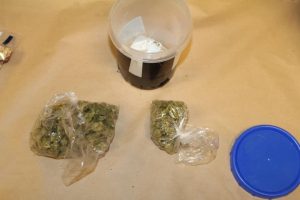 A firearm was located in 18-year-old Bryan "BJ' Cameron's room at the residence and is believed to be one of the firearms used in a drive-by shooting on the SMCC campus on September 9th.  Officers also discovered forty-four (44) grams of marijuana.
Cameron was arrested and booked for Drive-By Shooting, Conspiracy to Commit Drive-By Shooting, Shooting into a Motor Vehicle (x2), Possession of Weapon on School Campus by SMCCPD and Possession of Marijuana With the Intent to Distribute enhanced by Possession of a Firearm by the Pike County Sheriff's Office Narcotics Division.