(Photos courtesy of Tjay Pratt)
I imagine, choosing to make your living on the water must be close to the life of a farmer.  Each year, you pray the harvest will be good enough to provide for your family.  The difference is, farmers plant seed for their crops, fishermen rely on what is produced naturally.  This year is different.  For our fishermen and women on the Gulf Coast, there are now ecological changes taking place and they are seeing it first-hand.
The Bonnet Carré Spillway, in St. Charles Parish, Louisiana, was partially opened in February.  Heavy rains prompted a second opening of the spillway on May 10th.
Tjay Pratt of Biloxi is a commercial blue-crabber.  He and his dad, Jay Pratt, are partners who own and operate the Sally-Marie crabbing boat.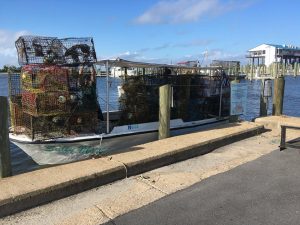 Pratt and his crew have been providing fresh blue-crabs to residents and local restaurants for about five years.  Pratt says, "We've had a less than normal year.  This should be the peak of our season, but looking at our books, we are about seventy-five to ninety percent less than what we had in previous years."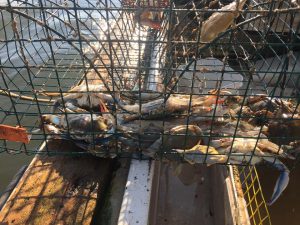 According to Pratt, he bases his catch on a per trap-per trip ratio and to break even, they need to catch about one pound per trap-per trip.  Pratt says a good day is when they can catch three to four pounds per trap-per trip.  Pratt says they have been experiencing minor impacts since the first opening of the spillway, but now they're seeing major problems.
Earlier this week, Pratt's crew collected their traps, but what they found was not encouraging.  Pratt said, "Tuesday produced three to four pounds of crab per trap, but they were all dead.  That's after a one-day soak, so it's not like the crabs starved to death, they've only been in the traps for 24 hours.  If I had to speculate, the crabs were being pushed by bad water, got caught in the traps, and could not escape."
https://www.facebook.com/tjay.pratt/videos/3032240593460631/?t=1
Pratt has been in contact with the Mississippi Department of Marine Resources (DMR) and says they have been helpful by deploying boats to the area to take water samples.  Pratt said, "They want to hear from us and know what we are seeing on the water."  He reached out to DMR after Tuesday's haul and is waiting for a response regarding the water quality.
The lack of crabs is proving to be a financial burden on Pratt, but he says because he has a second job and is able readjust his finances, he can hopefully get through this.
Pratt says others in the industry are struggling too.  "Some of my crabber friends that I am use to working side-by-side with are pulling their gear up because they can't afford to take the loss.  It's just not worth it for them.  They're going to do whatever they can do to make ends meet." Pratt says shrimpers are also struggling, and the fishermen are having to go out further in the water, which takes more fuel.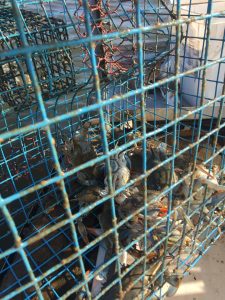 Pratt says he's worried, more than anything, about the future.  "One of my main concerns is, this time of year, we typically see a lot of sponge crabs, which are pregnant crabs.  By law, we have to throw those pregnant crabs back into the water.  Normally, we are throwing more pregnant crabs back than the non-pregnant crabs we are bringing home.  This year, I can probably count on both hands how many sponge crabs I've seen."
Pratt said, "It has me worried about what is in store for us in the future.  The crabs need the salinity, much like the shrimp and the fish.  Everything needs the salinity for the reproduction cycle to take place and work.  I believe it's really going to hurt us in the long run."
As environmental concerns are mounting, Governor Phil Bryant has penned a letter to U.S. Secretary of Commerce Wilbur Ross, requesting a federal fisheries disaster declaration for Mississippi.
In his letter, Governor Bryant states that the introduction of freshwater into the Mississippi Sound has had a negative impact on marine life, including oysters, crabs shrimp and fish, explaining that the current oyster mortality rate is estimated at 70%.
The Mississippi Department of Marine Resources, also attributed over 80 dolphin and over 125 sea turtle deaths to the opening of the spillway.