Theresa Love has been named the next executive director of the Mississippi Agriculture and Forestry Museum.
Love, a nearly three-decade staff member of the Mississippi Department of Agriculture and Commerce (MDAC) and former acting director of the Mississippi Agriculture and Forestry Museum, will now oversee all daily operations and events at the museum.
Throughout her tenure at the museum, Love has fulfilled various roles within education and volunteer services, as well as holding the deputy director, and more recently, acting director positions.
Mississippi Commissioner of Agriculture and Commerce Andy Gipson made the announcement on Wednesday morning, saying that he is proud to name Love as the museum's new executive director.
"She has faithfully served the agency for 26 years now, and her experience and proven abilities will help further our vision to educate individuals on Mississippi's rich agricultural history for generations to come," Gipson stated.
Love, who possesses an educational background with a bachelor's degree in counseling, said that she is grateful for the opportunity to serve in a higher position at the museum.
"The museum has an exceptional team, and I strive to nurture the remarkable legacy of this establishment to educate and captivate guests about the rich agricultural history of Mississippi," Love explained. "With an abundance of available resources at our fingertips, my intention is to make the utmost use of them to foster an enthusiastic interest among our younger generation, urging them to explore and pursue careers in the field of agriculture."
As her first major event as executive director, Love will oversee the museum's upcoming 40th Birthday Celebration on Saturday, September 9, from 10:00 a.m. to 3:00 p.m. The event will celebrate the Mississippi Agriculture and Forestry Museum's 40 years of educating the public on Mississippi's agricultural heritage.
Festivities during the event will include: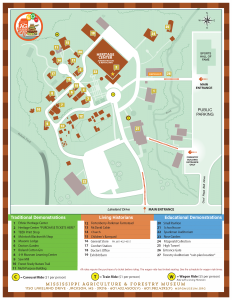 Display of antique engines and agricultural tools from the Dixieland Old Engine and Agricultural Club's collection
Demonstrations by Small Town, Mississippi at the Print Shop, Doctor's Garden, Masonic Lodge, Blacksmith Shop, Nature Trail, Schoolhouse, and Multipurpose Building
Special demonstration of the Sawmill at 1:00 p.m.
"Beekeeper talks" with the Central Mississippi Beekeepers Association
"Collection talks" with museum staff
Live musical performances from 10:30 a.m. to 2:30 p.m.
Information about Mississippi 4-H program
Educational presentations from the Mississippi Museum of Natural Science, Mississippi Forestry Commission, Chimneyville Weavers and Spinners Guild, Jackson Audubon Society, and more
Activities including character interactions, face painting, and more from Mississippi Public Broadcasting's Kids Club
Wagon rides
Demonstrations and interactions with Living History Presenters
Stay up to date with all of Mississippi's latest news by signing up for our free newsletter here. 
Copyright 2023 SuperTalk Mississippi Media. All rights reserved.