I look at the clock. 8:02 p.m. Time. It is elusive. Ephemeral, yet eternal. It flies; it drags; it allegedly heals all wounds. In its fullness, it reveals truths. It is our most precious gift. We measure our lives by it. Time of birth, time of death. Tick. Tock. Tick. Tock. The real tick, tock of our lives.
Smiley, feisty 17-year-old Kaylee Welton is out of time. She stopped her own clock… with a gun, on March 22 this year. The one-year anniversary is fast approaching, April 11, when athletic, handsome 14-year-old Sawyer Magee stopped his clock. He told his dad he had had the best day ever, and then killed himself later that evening. Educators at Kaylee's school reported seeing her throughout the school day and as she left to go home that afternoon. Nothing about her seemed unusual or caused alarm. Both teenagers lived in south Mississippi, where their families still reside.
Teenage suicide is not new to our collective consciousness. It is, however, disturbingly on the rise. The Centers for Disease Control and Prevention's Youth Risk Behavior Survey Data Summary and Trends Report: 2011-2021, released February 13 of this year, is a sobering alert to a generation struggling to survive. The CDC analysts describe a "significantly worsening" situation in their executive summary:
As we saw in the 10 years prior to the COVID-19 pandemic, mental health among students overall continues to worsen, with more than 40% of high school students feeling so sad or hopeless that they could not engage in their regular activities for at least two weeks during the previous year — a possible indication of the experience of depressive symptoms. We also saw significant increases in the percentage of youth who seriously considered suicide, made a suicide plan, and attempted suicide.
"High school should be a time for trailblazing, not trauma. These data show our kids need far more support to cope, hope, and thrive," said Dr. Debra Houry, CDC's Chief Medical Officer and Deputy Director for Program and Science.
According to a UCLA Health article, suicide is the second-leading cause of death in young people ages 15-24 in the United States. Dr. Carl Fleisher from the Boston Child Study Center in Los Angeles said, "Teenagers and young adults have had rising rates of suicide compared to 10 or 15 years ago. The things that make them vulnerable are where they stand socially and where they stand developmentally. They're not going to weigh risks and consequences or values in quite the same way that older folks will."
While suicide in adults has declined three percent, overall, it is increasing in some sub-groups, such as American Indian, Black, and Latino people, as found in a May 2022 report by Trust for America's Health, a non-profit health policy organization.
Suicide is extreme at any age, but more prevalent is the number of adults who struggle with anxiety and depression on a regular basis. The chart below shows how Mississippi fared in the Household Pulse Survey, 2020-2023, compared to the rest of the country. The survey was a joint effort by the National Center for Health Statistics and the U.S. Census Bureau as a means to rapidly monitor recent changes in mental health. For comparison, the national rate reported in the 2019 National Health Interview Survey was 11.3 percent in December 2019.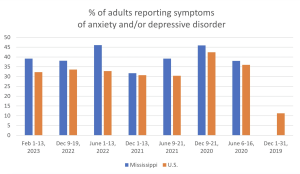 The figures reveal about 40 percent of Mississippians are feeling anxious and/or depressed right now. Even tough-minded, faith-bred, grit-in-their-veins sons and daughters of the Magnolia State can be downtrodden.
May is Mental Health Awareness Month. Use this month of April to prepare for it. Do something intentionally designed to improve your own mental health, as well as a loved one's. Be proactive; work on sustainable actions. Start by wearing a green ribbon, the international symbol of mental health awareness, to show others you care about their mental health, and yours. Have conversations, real ones, using your voice, not solely texted or posted.
Remember Kaylee and Sawyer. And remember time is of the essence:
We have this moment to hold in our hands
And to touch as it slips
Through our fingers like sand
Yesterday's gone
And tomorrow may never come
But we have this moment today.
– "We Have This Moment" by Bill and Gloria Gaither
The views expressed by contributors are their own and not the views of SuperTalk Mississippi Media.
Stay up to date with all of Mississippi's latest news by signing up for our free newsletter here. 
Copyright 2023 SuperTalk Mississippi Media. All rights reserved.