Radar image Courtesy of NWS
The latest update from the National Weather Service shows that Tropical Storm Cristobal is expected to impact Mississippi as early as tonight. 
According to the current projection from the NWS, heavy rainfall associated with Cristobal could cause flash flooding tonight into Monday morning in South Mississippi.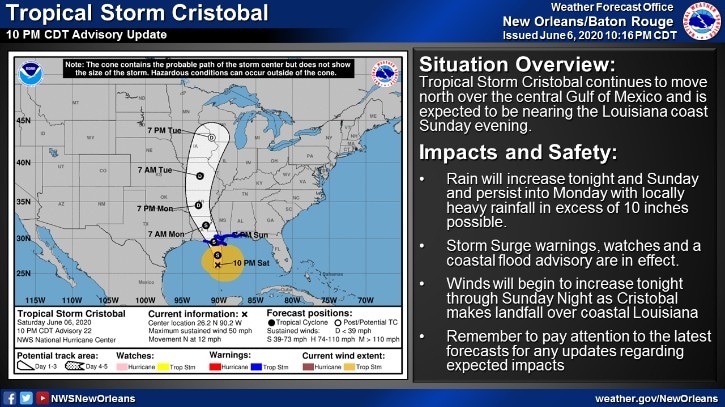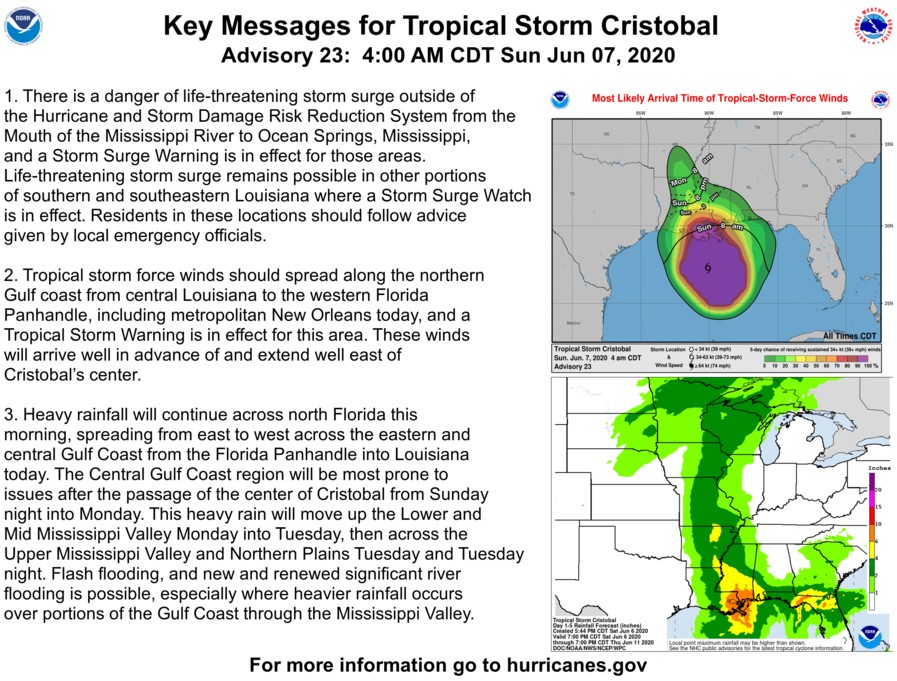 The Weather Channel states that winds associated with the storm have reached 50 mph, but there is "no significant strengthening" forecasted prior to its landfall.
If flash flooding occurs, the Mississippi Emergency Management Agency reminds you to "turn around, don't drown" if you're out on the road and come across standing water. Other safety tips from ready.gov include:
Do not walk, swim or drive through flood waters. 

Just six inches of moving water can knock you down, and one foot of moving water can sweep your vehicle away.

Stay off of bridges over fast-moving water.
Depending on the type of flooding:

Evacuate if told to do so.
Move to higher ground or a higher floor.
Stay where you are.
Hurricane season began June 1, and while Cristobal isn't a hurricane, it is still dangerous and you need to be prepared. MEMA recommends that you have a plan in place before a storm hits, including an evacuation plan. Also, MEMA recommends that you build an emergency kit with the following items:
Flashlight(s) with extra batteries.
Portable radio with extra batteries.
NOAA Weather Radio.
Non-perishable food for at least 3 days.
Bottled water (1 gallon per person per day).
First Aid Kit with prescription medications.
Bedding and clothing for each family member.
Blankets and towels.
Plastic dishes/eating utensils.
Rain Jackets/pants.
Sun screen/sunglasses/mosquito repellent.
Baby supplies (food, diapers, medication).
Pet supplies (food, leash & carrier, vaccination records).
Sanitary supplies.
Toothbrush, toothpaste, soap, shampoo, cleanser, bleach, towelettes, toilet paper, trash bags, feminine hygiene products.
Copies of important documents.
Driver license, SS card, proof of residence, insurance policies, wills, deeds, birth and marriage certificates, tax records, medical records, family pictures, etc.
Cash, enough to fill up your vehicle with gas and travelers checks.
Emergency generator.
Bicycle helmet
Stay up to date with all of Mississippi's latest news by signing up for our free newsletter here. 
Copyright 2023 SuperTalk Mississippi Media. All rights reserved.