Two major wildfires broke out across Mississippi over the weekend as the majority of counties across the state experience dry conditions.
The Mississippi Forestry Commission (MFC) released that wildland firefighters had responded to an over 2,000-acre wildfire in Hancock County near I-10 on Friday.
As of Saturday afternoon, the wildfire — which was 50 percent contained at the time — had covered 2,236 acres and made a 900-acre push the day prior.
#MSforestry wildland firefighters are fighting the Hancock Fire at I-10. It's up to 2,236 acres and made a 900-acre push yesterday. It is 50% contained.

Please heed all burn bans the cover the entire lower half of the state! https://t.co/Ixik21lLHa#PreventWildfiresMS pic.twitter.com/6ICQ5yQyr4

— MS Forestry Commission (@MSForestryComm) August 26, 2023
The next day, a 100-acre wildfire was reported near New Hope Road in Wiggins, with approximately 40 percent of the fire being contained by Sunday evening. The cause of the wildfire is currently unknown.
It's been a little over a week since state officials issued a partial burn ban to become effective across the southern portion of the state, with several additional counties being added within the past few days.
"Much of the state is experiencing significant drought conditions," Reeves said. "With the current drought conditions and little rainfall in the forecast, we are taking action now to protect the public. The state of Mississippi will continue to monitor conditions and respond as needed."
Under the burn ban, outdoor burning of any kind is prohibited in the listed counties. Anyone caught violating the ban can be fined and held responsible for any damages caused by a fire.
Here's the current list of counties that are under a burn ban: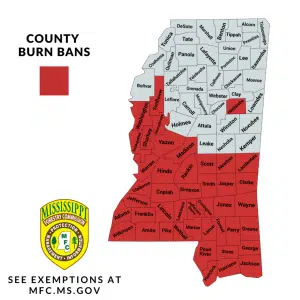 Adams
Amite
Claiborne
Clarke
Copiah
Covington
Forrest
Franklin
George
Greene
Hancock
Harrison
Hinds
Humphreys (expires 9/25) – Mississippi Forestry Commission and agricultural field burns are exempt
Issaquena
Jackson
Jasper
Jefferson Davis
Jefferson
Jones
Lamar
Lauderdale
Lawrence
Lincoln
Madison
Marion
Newton
Oktibbeha (expires 9/23) – Commercial contractors with heavy construction equipment are exempt
Pearl River
Perry
Pike
Rankin
Scott
Sharkey
Simpson
Smith
Stone
Sunflower (expires 9/21) – Mississippi Forestry Commission, certified burn managers, county fire services, commercial contractors with heavy construction equipment, and agricultural field burns are exempt
Walthall
Warren
Washington
Wayne
Wilkinson
Yazoo
Stay up to date with all of Mississippi's latest news by signing up for our free newsletter here. 
Copyright 2023 SuperTalk Mississippi Media. All rights reserved.