As Mississippians prepare to vote on two potential medial marijuana options on the November ballot, the state's largest hospital has weighed in on the matter. 
On election day, you'll vote between Initiative 65, a referendum that was created through a public petition, and the alternative presented by the Mississippi Legislature—Alternative 65A. 
Related: Everything you need to know about Initiative 65 v. Initiative 65A
The original initiative, spearheaded by the Medical Marijuana 2020 Campaign, gained over 228,000 signatures and has a large amount of public support, but the University of Mississippi Medical Center is speaking out against it. 
In a social media post, UMMC explained that the initiative's intent to amend the Mississippi Constitution would not allow for the oversight and regulation of medical marijuana. 
We do not support Initiative No. 65.

For the safety of all Mississippians, #VoteNOto65. pic.twitter.com/AuMeHqJQZo

— The University of Mississippi Medical Center (@UMMCnews) September 28, 2020
The organization's statement does not mention any support or rejection of the legislative alternative, which was passed by state lawmakers back in March. 
It does go noted that Initiative 65 has received support from over 70 members of the medical community.
At the polls, you'll first vote "for" or "against" the concept of medical marijuana, and regardless of your choice, you can still choose between the two initiatives. Mississippi will become the 34th state to legalize medical marijuana if the initial measure and one of the two initiatives receives a majority of the vote. 
A sample ballot can be seen below: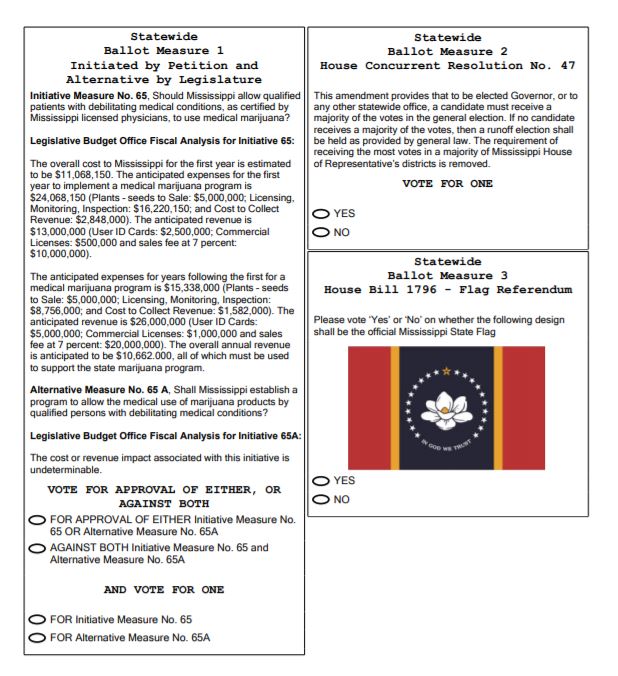 Stay up to date with all of Mississippi's latest news by signing up for our free newsletter here. 
Copyright 2023 SuperTalk Mississippi Media. All rights reserved.