A Mississippi State faculty member is part of an international team working to understand and predict coronavirus genetic mutations, which can aid in the development of potential treatments and vaccines for COVID-19.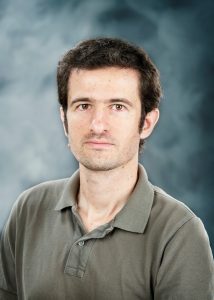 Jean-Francois Gout, an assistant professor of computational biology in MSU's Department of Biological Sciences, is a co-principal investigator on the National Science Foundation-funded research. Marc Vermulst, an assistant professor of gerontology at the University of Southern California is the principal investigator for the project, with Monique Nijhuis of Utrecht University in the Netherlands also serving as co-principal investigator.
Using SARS-CoV-2 samples from Europe, Africa and the U.S., the research team will first study how often genetic mutations occur in the new coronavirus genome, and then examine the effects of different mutations. Mutations are simply errors made by the virus while replicating its RNA-encoded genome, a process that is necessary for the virus to propagate. Gout explained that the frequency at which such mutations occur will determine the amount of genetic diversity in the virus particles infecting patients, which impacts the virus' ability to resist vaccines and treatments. The project will examine thousands of mutations in hopes of identifying which ones are critical to the virus life cycle.
"If a mutation increases in frequency over time, that makes the virus better at replicating," Gout said. "However, if we see a mutation that quickly disappears, or if we see a position in the genome where we never observe a mutation, that would mean that every mutation occurring at this position could be lethal for the virus. The goal is to find these weak spots, which will help the people looking for treatments narrow down the areas that they can target."
The virus samples will be cultured in petri dishes at UMC Utrecht in the Netherlands, in a lab that is equipped and certified to handle the virus. RNA from the samples will then be sent to USC to be processed before sequencing, generating data that Gout will download and analyze with his colleagues.
Gout said the idea for the project came about soon after the COVID-19 pandemic started. He and Vermulst have worked together on projects measuring the accuracy of DNA transcription to RNA, which employs methods initially developed to study the mutation rates of viruses. After finding a lab able to culture the virus cells, the research team applied for and received $198,000 in NSF rapid response funding from the Coronavirus Aid, Relief, and Economic Security (CARES) Act.
When the pandemic began, Gout incorporated analysis of the COVID-19 genome into his applied genomics class. He plans to use the data and analysis generated by this project in his future courses.
"I'm excited about the project," Gout said. "It has the potential of being an important contribution for understanding the molecular evolution of the virus."
Click here for more on MSU's Department of Biological Sciences, part of the College of Arts and Sciences.