In order to comply with federal stipulations, a state's congressional districts must contain equal populations. Mississippi did not, following the 2020 census.
Thus, Mississippi lawmakers have been tasked with redrawing the state's four congressional districts.
On Wednesday, the Joint Legislative Committee finalized a proposal that will virtually equalize the districts and could be adopted by the legislature as soon as the first week of the 2022 session.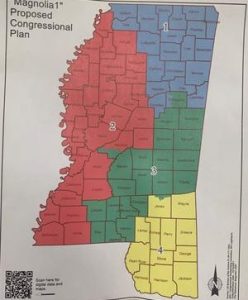 The proposal, presented by Pro Tem Rep. Jason White as the "Magnolia 1" plan, will drastically expand the geographical range of District 2, which has seen a population decrease of over 9.08% since the 2010 census.
District 1 (+2.1%), District 3 (+1.24%), and District 4 (+4.82%) each saw a slight increase in population over the last decade, resulting in a 70,000-person disparity between District 2 and its counterparts.
Expansion of District 2 under the "Magnolia 1" plan will move Adams, Franklin, Wilkinson, and Amite counties from Congressman Michael Guest's District 3 into Congressman Bennie Thompson's district. Most of Hinds County and the capital city of Jackson will also be added to District 2.
District 4, represented by Congressman Steven Palazzo, will lose Marion County, its current portion of Clarke County, as well as four precincts in Jones County to District 3. District 1, represented by Congressman Trent Kelly, will ultimately remain unaffected.
Stay up to date with all of Mississippi's latest news by signing up for our free newsletter here. 
Copyright 2023 SuperTalk Mississippi Media. All rights reserved.