The University of Southern Mississippi, in conjunction with partner organizations across the Mississippi Gulf Coast, announced the Gulf Blue innovation initiative to position Mississippi on the global stage for blue economy-related work.
This initiative is poised to bring "Big Ideas Out of the Blue" and pools the knowledge of research scientists, federal agencies, industry partners and entrepreneurs to further develop the Gulf Coast region into a global leader in ocean- and maritime-related technologies.
The history of USM on the Gulf Coast dates back to 1947.
USM has been strategically investing in coast-wide maritime infrastructure that positions coastal Mississippi to advance technology in six blue tech innovation clusters. Today USM is charting the path forward by leading the region to the next chapter of growth focused on discoveries, advanced innovations, and new practices for blue economy commerce.
The Gulf Blue initiative pools the knowledge of research scientists, federal agencies, industry partners, and entrepreneurs to further develop our region into a global leader in blue technology. Our history, geography, and maritime resources position the Gulf Coast to lead the development of world-changing innovation that will emerge out of the blue in Mississippi.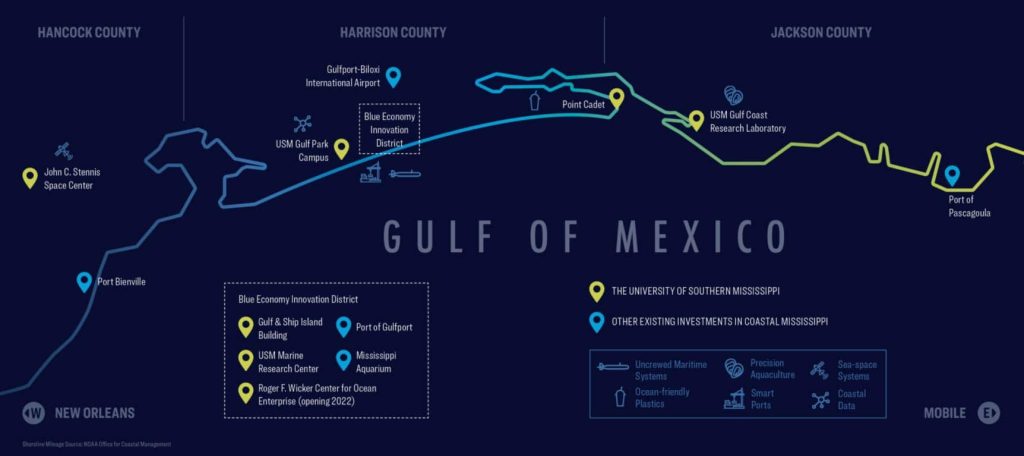 USM has created a network of resources that support Mississippi's global blue economy clusters. Innovators work and invest together with university research scientists and federal partners to solve challenges in six areas of convergence:
Uncrewed Maritime Systems
The U.S. Navy and NOAA have funded a robust ecosystem of companies building uncrewed maritime systems to collect ocean data. Help us leverage the region's capabilities in uncrewed systems to solve problems in aquaculture, offshore renewables, managing coastal pollution, sustainable fisheries, and coastal resilience.
Ocean-Friendly Plastics
Polymer science and ocean science are converging in the development of non-polluting materials. Our team is looking for entrepreneurs that are working to engineer new plastics that degrade on demand and technology to clean up what is already in the oceans.
Precision Marine Aquaculture
Aquaculture is a strength of the Gulf Coast region. Global seafood demand is rising, growing >5% per year. To keep up, we need innovations in seaborne sensors, alternative forms of fish feed, robotics, and data analytics to optimize farm operations.
Ocean and Coastal Data and Analytics
We want to understand the interconnectivity between the coastal areas and the ocean. Watersheds that flow into tributaries and then into rivers carry sediment, farm runoff, and plastics that impact the coastal habitats and the ocean. We want innovators with technology that measures and predicts the watershed's impact and what it brings to the coast.
Smart Ports
Ports are getting smarter. Sensors track containers so that moving freight from ship to rail to truck to warehouse is fluid. Artificial intelligence guides the selection of the most efficient routes to save fuel and time. Small ocean drones monitor the channels for maintenance and homeland security. Contact us with innovations that make ports smarter.
Sea-Space Systems
Satellite imagery and information integrated with ocean data provide insight into ocean health, pollution, regulatory enforcement, and precision aquaculture. Combining satellite technology and sensors in the ocean offers information that alerts and informs agencies that regulate overfishing or monitoring protected areas or species. We are looking for innovations that merge sea and space technology to solve global problems.
For more information about Gulf Blue visit GulfBlue.org
Stay up to date with all of Mississippi's latest news by signing up for our free newsletter here. 
Copyright 2023 SuperTalk Mississippi Media. All rights reserved.