Vicksburg resident Daniel Jennings walked away with a grand total of $25,000 on Thursday after giving his pitch to Shark Tank investor Daymond John for Black Entrepreneurs Day.
Jennings, the owner of Tiny Cottage Concept, LLC, was one of the eight Black business owners from across the nation that received funds during the annual event.
For over seven years, Jennings has used his knowledge of the construction business to create homes that are under 1,000 square feet. Now, he intends to use the grant to continue constructing and selling tiny homes, while using a portion of the funds to give shelter to the homeless.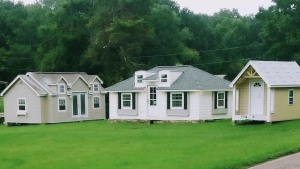 "We started building these types of homes seven years ago, and I got the idea that I really wanted to build homes for the homeless," Jennings told WLBT. "I was able to tie in selling homes in order to create money to build homes and donate homes for the homeless to nonprofit organizations that will actually provide housing for the homeless in America or victims of domestic violence."
Jennings takes 10 percent of the profit from each tiny home that is sold through his business and donates it to nonprofits that assist with sheltering victims of domestic abuse.
This year was also Jennings' second time applying for Black Entrepreneurs Day, as the Mississippi business owner originally auditioned in 2020.
"It was amazing. I have been dreaming about winning this competition for the last two years," Jennings said. "To actually get the email saying that I am a winner, and I would actually be talking to a Daymond John, and my business will actually be showcased across the world, I'm still floating on cloud nine. It's an amazing feeling, and I get a chance to represent Mississippi as a black business owner."
The Alliance for Entrepreneurial Equity reports that only two percent of businesses with employees in the U.S. are currently Black-owned.
Stay up to date with all of Mississippi's latest news by signing up for our free newsletter here. 
Copyright 2023 SuperTalk Mississippi Media. All rights reserved.