A Harmful Algal Bloom is still affecting all of South Mississippi's beaches in Hancock, Harrison, and Jackson Counties. The Mississippi Department of Environmental Quality (MDEQ), through its Beach Monitoring Program, continues to maintain water contact warnings across the Mississippi Gulf Coast for all 21 sampling stations.
According to the National Park Service, there has been no observed evidence of the algae bloom impacting the barrier islands of the Gulf Islands National Seashore. All the beaches in the park are currently open.
"Ongoing sampling this week by the Mississippi Department of Environmental Quality indicates that a Harmful Algal Bloom remains in our nearshore waters along the beaches," said Governor Phil Bryant. "We encourage people to be aware of their surroundings and pay attention to these warnings. As a reminder, these warnings issued by MDEQ refer to water contact only and do not prohibit or restrict recreational use of the sand portion of any beach. We hope residents and visitors alike will enjoy the beach and the many other attractions of South Mississippi. In addition, the Mississippi Department of Marine Resources assures me that off-shore, locally-caught fish and seafood are safe to enjoy as well as that available in local businesses and restaurants."
MDEQ is continuing to recommend that people, and their pets, avoid water contact such as swimming or wading where the blue-green HAB is present because exposure can be harmful. The algae can cause rashes, stomach cramps, nausea, diarrhea, and vomiting. MDEQ advises that those exposed wash with soap and water.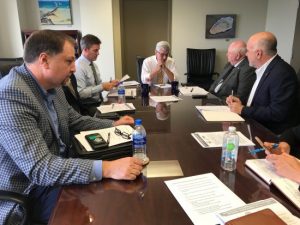 "The water contact warnings issued by MDEQ may be revised as ongoing sampling results dictate, and the public will be notified of any changes as soon as possible. We encourage people to go to our website and sign up for direct email and text alerts," said Gary Rikard, MDEQ Executive Director. "Going forward we are using the term 'water contact warning' to be more accurate and to reduce confusion in our notices to the public. We continue to encourage people to avoid water contact."
While the beaches are closed for wading and swimming, Gov. Bryant who met with authorities on the subject earlier this week says the Mississippi Department of Marine Resources is assuring the public that local seafood is safe for consumption.
"The water samples tested by the Mississippi Department of Marine Resources and the National Oceanic and Atmospheric Administration have not shown toxin levels high enough to warrant concern for the consumption of local seafood," said MDMR Executive Director Joe Spraggins. "MDMR is continuing to test water and fish samples to ensure seafood safety in Mississippi waters. MDMR is advising fishermen to avoid catching seafood in waters where algae is present. Recreational and commercial fishing off-shore in Mississippi waters remains unaffected by the algal bloom and is safe for consumption. The MDMR is committed to frequent sampling to ensure the safety for fresh locally-caught seafood."
The water contact warnings remain in effect for the following stations:
Station 1 – Lakeshore Beach
Station 2 – Buccaneer State Park Beach
Station 3 – Waveland Beach
Station 4 – Bay St. Louis Beach
Station 5 – Pass Christian West Beach
Station 6 – Pass Christian Central Beach
Station 7 – Pass Christian East Beach
Station 7A – Long Beach Beach
Station 8 – Gulfport West Beach
Station 9 – Gulfport Harbor Beach
Station 10 – Gulfport Central Beach
Station 10B – East Courthouse Road Beach
Station 11 – Gulfport East Beach
Station 11A – Edgewater Beach
Station 12A – Biloxi West Central Beach
Station 12B – Biloxi East Central Beach
Station 13A – Gulfport Harbor Beach
Station 14 – Front Beach
Station 15 – Shearwater Beach
Station 19 — Pascagoula Beach West
Station 20 — Pascagoula Beach East
In addition, MDEQ also issued a water contact warning July 2 for a segment of the Jourdan River in Hancock County from the I-10 bridge to the mouth of the river into St. Louis Bay. MDEQ recommends that people avoid activities such as swimming, wading, and fishing. People should also avoid eating fish or anything else taken from this section of the river until further notice.
MDEQ encourages the public to be aware of their surroundings and notify the agency and/or local emergency management officials if they see HAB in other sections of the Jourdan River or anywhere else on the Mississippi Gulf Coast. Sampling in the Pass Christian Harbor, the Bay St. Louis Harbor, and the Long Beach Harbor has also indicated the presence of an HAB.
Stay up to date with all of Mississippi's latest news by signing up for our free newsletter here. 
Copyright 2023 SuperTalk Mississippi Media. All rights reserved.