The C Spire Conerly Trophy is presented annually to the top college football player in Mississippi.  It's named after Charlie Conerly, a Mississippi Sports Hall of Famer, college All-American, an NFL rookie of the year and NFL All-Pro who quarterbacked the New York Giants to a world championship.
The C Spire Conerly Trophy watch list has been released by the Mississippi Sports Hall of Fame & Museum:
Matt Corral, Ole Miss QB: Completed 20 of 27 passes for 324 yards and a touchdown with no interceptions in a 27-14 victory over Liberty. For the season has completed 182 of 272 passes 2,527 yards and 16 touchdowns and two interceptions. Has run for 528 yards and 10 touchdowns on 116 carries.
Will Rogers, Miss. State QB: Completed 36 of 48 passes for 417 yards and four touchdowns, with one interception, in a 31-28 loss to Arkansas. For the season, has completed 363 of 483 passes for 3,307 yards and 23 touchdowns with eight interceptions.
Shedeur Sanders, Jackson State QB: Completed 25 of 41 passes for 305 yards and three touchdowns in a 41-21 victory over Texas Southern. Has completed 196 of 291 passes for 2,414 yards and 23 touchdowns with three interceptions.
Frank Gore, Southern Miss RB: Ran 12 times for 82 yards in a 38-14 loss to North Texas. For season, has gained 608 yards rushing on 142 carries. Has caught 20 passes for 157 yards.
Felix Harper, Alcorn State QB: Completed 24 of 33 passes for 300 yards and one touchdown in a 35-31 loss to Bethune-Cookman. Has thrown for 2,003 yards and 17 touchdowns (4 interceptions).
Deion Dampier, Delta State RB: Ran for 96 yards and two touchdowns on 12 carries in a 24-21 overtime victory over Mississippi College. For season, has run for 555 yards and six touchdowns on 102 carries.
Cole Fagan, Mississippi College RB: Ran for 131 yards and a touchdown on 12 carries in a 24-21 overtime loss to Delta State. For season, has run for 652 yards and 4 touchdowns on 118 carries.
Caleb Johnson, MVSU RB: Ran for 84 yards on 20 carries in 42-14 defeat to Alabama A&M. For season, has run for 748 yards and 6 TDS on 179 carries.
Brad Foley, Belhaven RB: Ran for 155 yards and a touchdown on 14 carries in a 35-20 victory over McMurry On the season has run for 842 yards, 8 touchdowns and 5.8 yards per carry.
Kaleb Thompson, Millsaps QB: Completed nine of 18 passes for 141 yards and two touchdowns in a 49-21 defeat to Berry College. For the season has completed 83 of 144 passes 1,232 yards and 11 touchdowns (4 interceptions).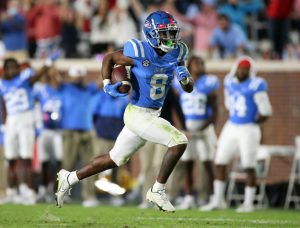 During a virtual presentation in May, the 2020 award went to Ole Miss wide receiver Elijah Moore. Moore played in 8 games during the 2020 season and had 1193 total yards, averaging 149 yards per game. He scored 8 touchdowns on the season with the longest being for 91 yards. Moore set the school record for most yards in a game (238), most catches in a game (14), and most touchdowns in a game (3).
Former University of Tennessee defensive back and veteran CBS NFL television analyst, Charles Davis, will be the featured keynote speaker at the 2021 C Spire Conerly Trophy awards program on Tuesday, November 30th at the Country Club of Jackson.
For ticket information, contact the Mississippi Sports Hall of Fame & Museum online at msfame.com or by phone at 601-982-8264