Winter weather is expected to arrive across the state of Mississippi today, bringing freezing temperatures, sleet and possibly snow. Below, you'll find the latest from the National Weather Service in each region of the state and tips from several agencies on how to prepare for the conditions to come. 
North Mississippi (NWS Memphis):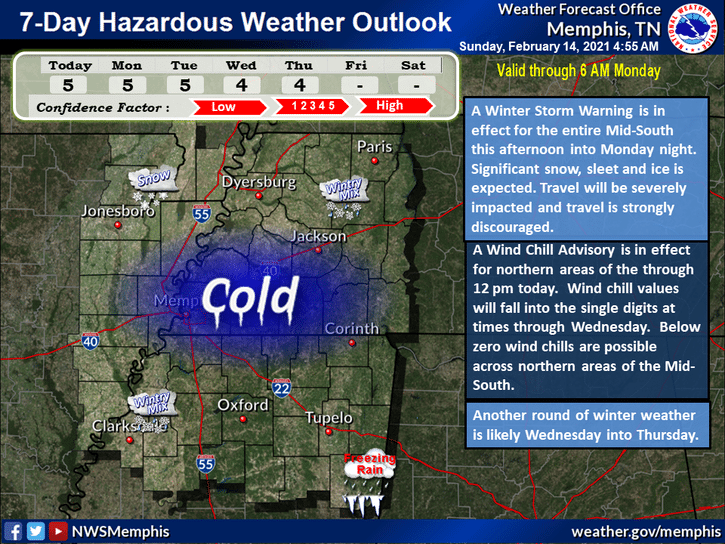 "Today and Tonight A major winter storm will begin to bring snow, sleet, freezing rain and low wind chill values to the entire Mid-South this afternoon into tonight. There will be significant impacts to travel and travel is strongly discouraged. Hypothermia is possible without precautions. A Wind Chill Advisory remains in effect for northern parts of the Mid-South through 12 pm today. Please see the latest Winter Storm Warning for the latest details. .DAYS TWO THROUGH SEVEN…Monday through Saturday A major winter storm will bring snow, sleet, freezing rain and low wind chill values to the entire Mid-South Monday into Monday night. There will be significant impacts to travel and travel is strongly discouraged. Hypothermia is possible without precautions. Wind chill values will fall into the single digits at times through Wednesday. Below zero wind chills are possible across mainly northern areas of the Mid-South Monday and Tuesday mornings. Another round of significant winter weather is likely Wednesday into Thursday."
Central Mississippi (NWS Jackson):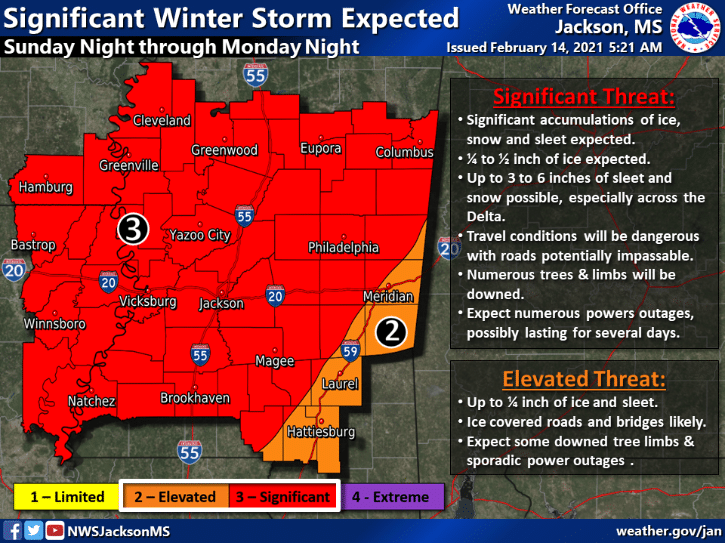 A significant winter storm is expected to begin impacting our area from west to east late Sunday night through the day on Monday. Impacts will linger at least into Monday night if not later in the week. Significant accumulations of ice, sleet, and snow will result in dangerous travel conditions as well as downed trees and power lines. Impacts will likely be most significant where freezing rain and sleet accumulate quickly. A Winter Storm Warning is in effect for all of the area.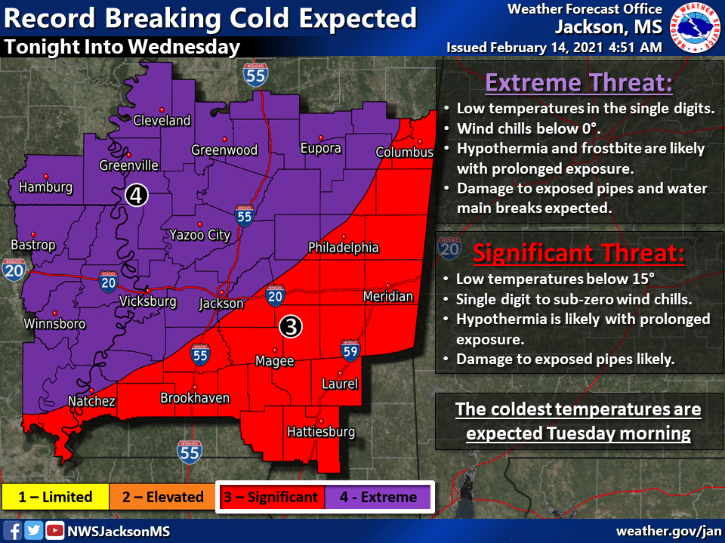 A surge of dangerously cold arctic air is expected to reach the area early this week. This will be a long duration of very cold conditions and dangerous wind chill readings as low as several degrees below zero with the coldest temperatures expected Tuesday morning.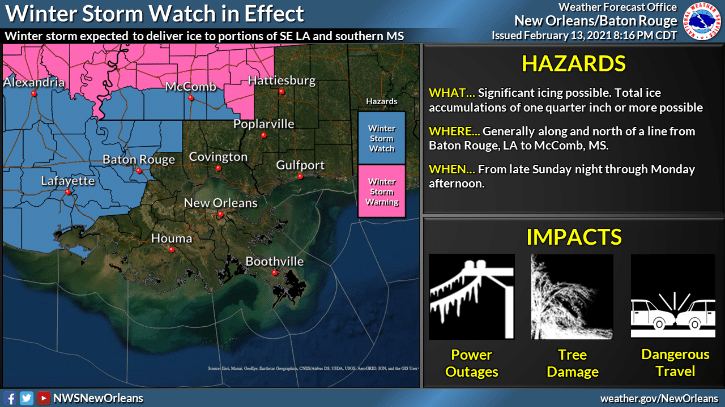 "Winter Storm Watches are in effect for areas generally northwest of a line from Baton Rouge to McComb due to the potential of significant ice accumulation…The highest ice accumulation is expected across northwestern areas, where over one quarter inch of ice accumulation will be possible. Remember, even a trace of ice on roadways can cause hazardous driving conditions."
Prepare for possible isolation in your home by having sufficient heating fuel; regular fuel sources may be cut off. For example, store a good supply of dry, seasoned wood for your fireplace or wood-burning stove.
Winterize your home to extend the life of your fuel supply by insulating walls and attics, caulking and weather-stripping doors and windows and installing storm windows or covering windows with plastic.
Winterize your house, barn, shed or any other structure that may provide shelter for your family, neighbors, livestock or equipment. Clear rain gutters, repair roof leaks and cut away tree branches that could fall on a house or other structure during a storm.
Insulate pipes with insulation or newspapers and plastic and allow faucets to drip slightly during cold weather to avoid freezing.
Keep fire extinguishers on hand, and make sure everyone in your house knows how to use them. House fires pose an additional risk, as more people turn to alternate heating sources without taking the necessary safety precautions.
Learn how to shut off water valves, in the case of a pipe bursting.
Know ahead of time what you should do to help elderly or disabled friends, neighbors or employees
Also, be sure to check on the elderly and those who may need assistance.
With icy road conditions expected, you should avoid travel if possible. If you must drive, the Department of Transportation provides the following tips:
Remember, ice will form on bridges and overpasses quicker than the road.
Slow down; should winter weather conditions become present, black ice can form.
Allow more space between the vehicles around you.
Brake early and gently to avoid skidding, and never slam on the brakes.
Avoid distractions, such as talking or texting on a cell phone.
Stay alert.
Stay up to date with all of Mississippi's latest news by signing up for our free newsletter here. 
Copyright 2023 SuperTalk Mississippi Media. All rights reserved.