100 years ago today, the 19th Amendment was ratified, granting women the right to vote.
In honor of the historic event, President Donald Trump signed a proclamation and said the Amendment was only the beginning for American women.  "Today, a record-breaking 131 women are serving in Congress; nearly 70-million women vote in elections; 56-percent of our nation's college students are women; more than 11-million women own successful businesses.  In other words, women dominate the United States," said Trump.
President Trump stated that the Amendment was a monumental victory for equality, for justice, and a monumental victory for America.
The President said American women continue to see success and advancement in the U.S. "Before the virus struck our nation, women had gained 4.3 million jobs – a record. The women's unemployment rate had plummeted to the lowest level in more than 65 years, and last year, over 70-percent of new jobs went to women. I will say that we're coming back very strongly and we're going to see those numbers again very soon."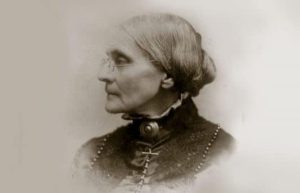 President Trump also announced the posthumous pardon for women's suffrage icon Susan B. Anthony. Anthony was tried and found guilty, by an all-male jury, of voting illegally in the 1872 presidential election.
Mississippi Senator Cindy Hyde-Smith, one of the 131 women in Congress, was invited by the  Smithsonian National Museum of American History to help commemorate the centennial anniversary of the ratification of the 19th Amendment.
Hyde-Smith said, "Women, wives, mothers, sisters, and daughters bring a valuable perspective, not only into policy making but into all professions. As we celebrate the 100th anniversary of Women's suffrage, we reflect on the importance of the suffragists' tenacious activism, allowing women to vote and to hold elected office."
"When I cast my first votes," said Hyde-Smith, "I had no idea that I'd follow those suffragists' tenacity & fight to jump into the political realm— eventually becoming the first woman elected from Mississippi to serve in Congress. I am excited to see what future women leaders will bring this country."