June 15th was the deadline to submit initial public comments on a new review on the Yazoo Backwater Area Project, a long-awaited flood control protection measure in the Delta.
But, Mississippians should also have a chance to continue making the case for the pumps this fall.
The public comments are critical in helping to inform the U.S. Army Corps of Engineers' Vicksburg District as they prepare a Supplemental Environmental Impact Statement (SEIS) on a new project proposal based on new data.
Early in the process, Senator Cindy Hyde-Smith said, "Significant input from Mississippians, who understand how the lack of the pumps has harmed homes, property, and the environment, will make a difference in the steps the Army Corps takes on the Yazoo Backwater pumps."
Hyde-Smith serves on the Senate appropriations subcommittee with jurisdiction over the Army Corps.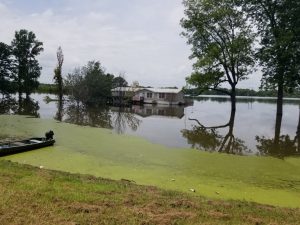 "In the past, the voices of Mississippians and residents directly affected by catastrophic backwater flooding have been drowned out by outside groups with little to no connection to or understanding of the importance of this effort.  We need to correct that," she said.  "The voices of those Mississippians play an important role in giving the South Delta the flood control it has needed for almost 80 years."
Hyde-Smith says officials are now reviewing the comments. "We're in constant contact with the U.S. Army Corps of Engineers and the Environmental Protection Agency. "
"We have an October goal to complete the SEIS report and release it to agencies and the public for review and comment," said Hyde-Smith.
"This looks really good," said Hyde-Smith. "I remain very hopeful that the Corps will decide in early 2021 to move forward and start constructing those pumps. This is a very positive thing and we are on track. We have bird-dogged this like nobody's business."
Hyde-Smith noted that the Presidential election could play a role in the project moving ahead as hoped. "The biggest concern is the President's re-election. I have a great relationship with the President, which has helped us to move this forward. It could be pivotal to the pump project becoming a reality, so we've got to get this President re-elected.  I'm not saying if the President were to lose the election, that the pumps would go away," said Hyde-Smith. "Things are going very well and I can assure you it's been with a lot of hard work. It's been a lot of knocking on doors and follow up. It has been a very important priority for me."