We're a week away from an important date in the 2019 election cycle. 
Starting next Monday (June 24th), you'll be able to request an absentee ballot ahead of August 6th's primary elections, during which, you'll select the primary candidates for your respective party in the race for Governor, Lt. Governor, Attorney General and several other statewide races. 
Related: 2019 candidates list released
You must apply for an absentee ballot through your local circuit clerk's office, but an application can be mailed to you if you are disabled, over the age of 65, or if you're temporarily outside of the county where you are registered to vote. 
The in-person absentee voting deadline is August 3rd at noon while the mail-in deadline is August 5th at 5:00 p.m. 
UOCAVA voters can begin requesting their absentee ballots on Saturday (June 22nd), and instructions can be found here – UOCOVA Step-by-Step Instructions.
UOCAVA voters have until election day at 7 p.m. to get their absentee ballots in. 
If you're still not registered to vote, the deadline to do so is July 8th. To register, you must turn in an application to your circuit clerk's office by 5:00 p.m. on the 8th. This can be done in person or by mail. Click here to visit the Secretary of State's website and download a voter registration form. – Voter Registration Form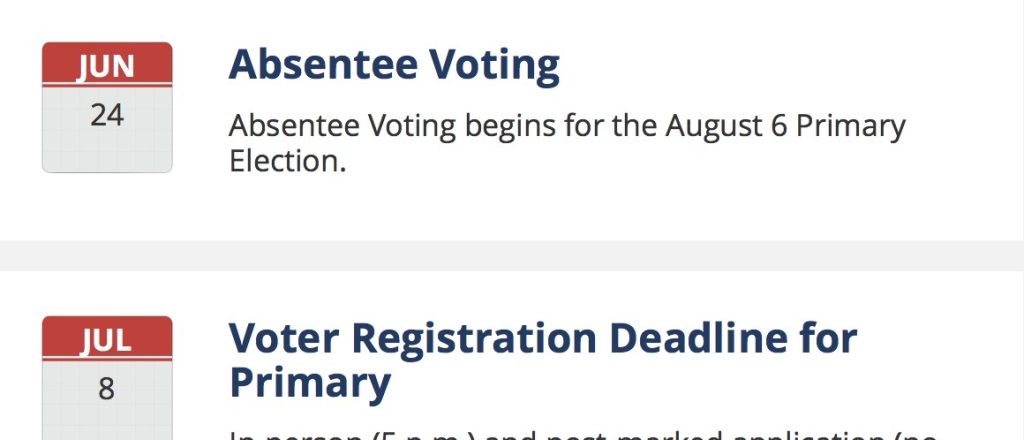 Any runoff elections from the primaries will take place on August 27th. 
Stay up to date with all of Mississippi's latest news by signing up for our free newsletter here. 
Copyright 2023 SuperTalk Mississippi Media. All rights reserved.