Photo courtesy of Stennis Space Center
One member of the space community has started a campaign to rename the John C. Stennis Space Center in Hancock County.
Will Pomerantz, vice president of special products for Virgin Orbit, launched the campaign via Twitter, stating that it's time for people to realize "one of NASA's main campuses is named after a person who has been called 'the heart, soul, and brains of the white supremacist caucus in the 1948 Congress.'"
This is not the first time that Stennis' name has resurfaced to haunt the present.
Just last month, Laurin Stennis, the granddaughter of the late U.S. Senator, felt forced to rename her "Stennis Flag" to the "Hospitality Flag" as internet activists began to go after the Jackson artist—even though the flag wasn't even named after her grandfather, according to Laurin.
"I think some folks when they see Stennis, they think it's named for John C. Stennis," she explained in a previous interview with News Mississippi. "I would have a reservation about that too. Luckily, it's not named after him."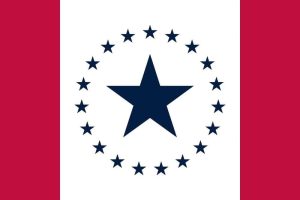 Different from the once-called Stennis Flag, the Mississippi space center is directly named after the longtime segregation leader as it was renamed from the National Space Technology Laboratories to the John C. Stennis Space Center in 1988 by President Ronald Reagan.
Today, five (Guest, Hyde-Smith, Kelly, Palazzo, and Wicker) of the six U.S. Congressmen from Mississippi released a joint statement in opposition of Pomerantz's campaign to change the space center's name.
"We strongly oppose any effort to rename the John C. Stennis Space Center. In serving the people of Mississippi and the United States for more than 40 years in Congress, Senator Stennis was known above all as a principled and fair-minded leader with a keen interest in promoting our national security. He was also a strong advocate for American leadership in space exploration. As President Reagan noted in his 1988 executive order to rename the facility, the Stennis Space Center would not exist without his strong support for our nation's fledgling space program and his personal advocacy for the project to the residents of Hancock County. Removing Senator Stennis's name from the facility he was instrumental in creating would do nothing to advance the cause of justice in our nation."
While the majority of the Mississippi delegation does not believe a name change would be beneficial to the nationwide effort to promote social equality and end systemic oppression, NASA has stated that it is "dedicated to advancing diversity."
"NASA leadership is sensitive to the discussions of racism, discrimination and inequalities going on around the world. We are aware of conversations about renaming facilities and are having ongoing discussions with the NASA workforce on this topic. NASA is dedicated to advancing diversity and we will continue to take steps to do so."
Although NASA did not provide an outright opinion on the notion to rename the Stennis Space Center, its administrator Jim Bridenstine did recently announce that the headquarters in Washington, D.C. will be named the Mary W. Jackson NASA Headquarters after the first African-American, female engineer to work for the federal agency.
NASA's Headquarters will be named the Mary W Jackson NASA Headquarters. Mary Jackson was @NASA's first African-American female engineer. She elevated America's space program & led towards inclusion. Looking forward to holding a formal naming ceremony soon. https://t.co/R5tYNKPYNS pic.twitter.com/vKuIzMwpGN

— Jim Bridenstine (@JimBridenstine) June 24, 2020
Pomerantz is looking for the Stennis Space Center to be named after Mae Jemison, the first African-American woman in space.
Stay up to date with all of Mississippi's latest news by signing up for our free newsletter here. 
Copyright 2023 SuperTalk Mississippi Media. All rights reserved.