The city of Jackson's sewer system is now in the control of interim third-party manager Ted Henifin following U.S. District Court Judge Henry Wingate's approval of a stipulated order over the weekend.
Wingate gave his approval of the order after the Jackson City Council voted to transfer control of the capital city's sewer system to Henifin in late June.
Henifin has managed Jackson's failing water infrastructure for almost a year after the O.B. Curtis water treatment plant collapsed in August of 2022, leaving thousands of residents in Mississippi's largest city with little to no water for 48 days.
Since then, millions of dollars in grant funding have been allocated to the capital city while Henifin has directed efforts to stabilize Jackson's two water treatment facilities and repair the struggling water system.
Now, Henifin has been selected to continue work on improving the water conditions in Jackson with new management of the sewer system.
Immediately responding to the federal court order, the capital city's water management corporation, JXN Water, released that it will work over the next four years to address wastewater engineering challenges, staffing, and budget with a list of priority projects.
"Having raw sewage flow down the streets of Jackson is unacceptable. JXN Water is aggressively at work right now to fix sewer overflows and restore sanitary sewer operations," Henifin said. "There are about 215 overflows right now across the city and they're in neighborhoods where people live close by… you got businesses, cars driving through, people trying to walk their dogs. They don't want to walk near this. It causes them to have to take alternate routes. It's just a mess, and we're going to get at it right away."
According to JXN Water, a summary of the public comments for the sewer order showed overwhelming support for the work of the ITPM (Inspection, Testing, and Preventive Maintenance), with 95 percent of comments expressing favorable sentiment.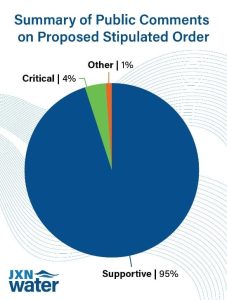 "Thank you to Jackson area leaders, the Department of Justice, the Environmental Protection Agency, and others who support this opportunity to address a longstanding sewer problem in the community together," Henifin added.
JXN Water has since asked residents to stay current on their water bills and to practice the following guidelines:
Avoid spilling grease into faucets or toilets
Do not flush wipes, even if the package claims wipes are flushable
Only flush urine, toilet paper, or feces
Avoid sewer drain blockages by safely removing any trash, trees, or other items that could block a sewer drain during periods of rainy weather
A full list of emergency sewer failures can be found in the court order.
Stay up to date with all of Mississippi's latest news by signing up for our free newsletter here. 
Copyright 2023 SuperTalk Mississippi Media. All rights reserved.