On Monday, Governor Tate Reeves issued his first partial veto of the 2022 legislative session on Senate Bill 3010, removing a section that would designate $50 million in funds to the University of Mississippi Medical Center's adult hospital building.
In the bill, numerous sections mention the allocation of millions of dollars in funding to other areas of UMMC, namely the teaching centers.
All sections mentioning the appropriation of funds to programs, scholarships, and patient fees were approved by Reeves, except for one.
Section 24 of the bill, which would designate $50 million of COVID-19 recovery funds for the construction costs to make improvements to UMMC's adult hospital, was the only allocation that received Reeves' disapproval.
On Tuesday night, Reeves posted a photo including his reasoning for the vetoing of the section on Twitter.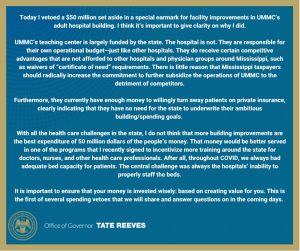 During Wednesday's press conference, Reeves publicly expressed his discontent with Section 24 of the bill, saying that he believes the funds should go to training healthcare workers and not to the expansion of the adult hospital.
"It is my view when you look at what we've seen over the last several years, the number of beds available in our state has not really been an issue. The inability of our hospitals to actually staff those beds has been an issue."
Following his response to the partial bill, the question of whether Reeves was taking a side in the UMMC-Blue Cross & Blue Shield dispute was asked.
For months, UMMC and Blue Cross have experienced difficulties agreeing to a contract, leaving thousands of Mississippians without insurance coverage at the hospital for almost a month after the previous contract expired.
Reeves stated that although he is not taking sides, he believes the hospital has an "additional obligation" to resolve the conflict due to the number of exemptions they receive from the state.
"I believe strongly that when you look at the University of Mississippi Medical Center, their mission is to serve patients. And there are patients that are going either unserved or underserved because of this contract dispute."
The governor continued, saying that he is "looking for people to get in a room and get an agreement and get this done so that the healthcare of so many Mississippians is no longer put in jeopardy."
Currently, the hospital and insurance company have announced that they will attempt to agree on a new contract again.
To learn more about the growing dispute between UMMC and Blue Cross, continue reading below.
Stay up to date with all of Mississippi's latest news by signing up for our free newsletter here. 
Copyright 2023 SuperTalk Mississippi Media. All rights reserved.