Photo courtesy of Laurin Stennis
Mississippi may have a new state flag soon. With controversy surrounding the current state flag's Confederate symbol, many are looking for a change and some people believe the Stennis Flag may be the answer.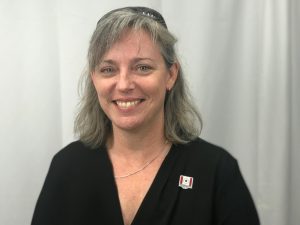 The Stennis Flag was designed in 2014 by artist Laurin Stennis and features 19 stars in a circle around a large center star with a red stripe on either side. Stennis, says it is the number one selling flag in the state.
"The overarching theme is unity and what we share. Now we can be divided about a lot of things and those two red bars that are in opposition to one another represents that conflict, when it is done in a healthy way, is fine," said Stennis. "We don't have to be Pollyannaish and pretend that we all agree on everything, but that red color also symbolizes Mississippians who gave their lives fighting for liberty and justice for all."
The Governor recently signed a bill to allow the Stennis Flag to be used on a specialty license plate. The proceeds of which go toward the Two Mississippi Museums. Stennis says the Mississippi Museum of History and the Civil Rights Museum have received over $8,500 in pre-orders alone. Others have already embraced the new flag and are already recognizing it as the state flag.
READ MORE: Mississippi flag removed from New Jersey park
"It's been a grassroots movement," said Stennis. "People have put stickers on their cars, flags in front of their homes and their businesses, and it has taken off and grown like that partly because it is a great design, but also because of the positive spirit behind it and it allows us to release all of that negative tension and just rally around the fact that we love this state and we want to celebrate it in an evocative rather than a provocative way."

Stennis says she believes it won't be long before it becomes official as there is much support for it on both sides of the aisle.
"I think we have a good shot in this next session because not only are we talking about a new state logo, so we want to privatize the things that are still meaningful to people but just don't make sense and aren't successful as a state flag," Stennis said.  "But, we are going to write that into the legislation. Private display of other flags is free speech and that is not to be infringed upon, but the state and its image, if any other corporation had a logo that affected its morale and bottom line the way ours does, they'd change it in a heartbeat."
Stennis says the flag design took months of research at the Mississippi Department of Archives and History and then a specific course in Vexillology, which is the study of the history, symbolism, and use of flags. She said she already knew what makes a design work, but wanted to know the details and the history behind them to work them into the project. Stennis adds that there is a place for the current flag with the Confederate symbol. However, she does not believe it is on the flag poles.
"Let's change our public logo, our public flag, public image and then protect the private right to display anything and also recognize the current flag and the Magnolia flag and others as a historically significant civilian variance," Stennis said. "They are objects that folks can recognize their tenure and discuss what they meant for the state for better, or for worse, but to look ahead and have a new image going forward. I'm cautiously optimistic about next year. I feel like folks are ready to let go of this anger and this tension and move ahead."