An Ole Miss football player has filed a federal lawsuit against both the university and head coach Lane Kiffin.
DeSanto Rollins, a redshirt junior defensive lineman, claims he was suffering from mental health issues and was not provided the proper care by the university before Kiffin kicked him off the team.
In a statement to ESPN, university officials said Rollins is still a member of the team, and resources available to student-athletes are still available to him. Rollins is listed on the team's active roster.
"We have not received a lawsuit," Ole Miss wrote. "DeSanto was never removed from the football team and remains on scholarship. In addition, he continues to have the opportunity to receive all the resources and advantages that are afforded a student-athlete at the university."
The lawsuit, which is seeking a total of $40 million in compensatory and punitive damages, alleges Kiffin took adverse action against the Louisiana native "on account of race for requesting and taking a mental health break, but not taking adverse action against white student-athletes."
It also alleges sexual discrimination on the basis that Ole Miss has not taken "adverse action against female student-athletes for requestion and taking a mental health break."
According to filings in the U.S District Court for the Northern District of Mississippi, Rollins suffered multiple injuries, including a concussion in the spring of 2022 and an injury to his Achilles tendon that July. A month later, he aggravated a previous injury to his LCL. The injuries resulted in Rollins suffering from "severe depression."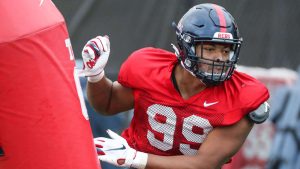 Attorneys for Rollins claim no one within the athletic department provided their client with materials about mental health or a mental health referral after his injuries. Pressure from coaching staff to transfer and the death of his grandmother in January 2023 only furthered his depression, the lawsuit says.
In February 2023, Rollins took a mental health break after Kiffin allegedly moved him to the scout team offensive line. In the weeks following, athletic trainer Pat Jernigan scheduled meetings for Rollins with the school's assistant athletic director for sport psychology after his mother informed staff that he was "suffering from a mental health crisis."
Even though Kiffin and other football staff members repeatedly requested to meet with Rollins, the former three-star recruit did not meet with his head coach again until March 21. That's when Kiffin kicked him off the team, according to an unverified recording included in the lawsuit.
"Ok, you have a f—ing head coach, this is a job, guess what, if I have mental health issues and I'm not diminishing them, I can't not see my f—ing boss," Kiffin allegedly said, not knowing he was being recorded. "When you were told again and again the head coach needs to see you, wasn't to make you practice, wasn't to make you play a position you don't f—ing want to, ok? It was to talk to you and explain to you in the real world, ok? So, I don't give a f— what your mom say, ok, or what you think in the real f—ing world, you show up to work, and then you say, 'Hey, I have mental issues. I can't do anything for two weeks, but if you change my position, I won't have mental issues.'"
When Rollins told Kiffin he was being disrespectful, Kiffin is said to have had the following response:
"Go. You're off the team. You're done. See ya. Go. And guess what? We can kick you off the team. So go read your f—ing rights about mental health. We can kick you off the team for not showing up. When the head coach asks to meet with you and you don't show up for weeks, we can remove you from the team."
The full transcript of the audio can be read in the lawsuit here. Rollins, who is set to graduate in December, has played in three games over the last two years after redshirting his freshman season in 2020.