One of the most important things you can do with the impending threat of severe weather is to find the safest place to go in case of a tornado. If you live in a mobile home or do not have a sturdy structure to go to, the Mississippi Emergency Management Agency has issued the following list of available storm shelters:
Chickasaw County:

Chickasaw DHS, 110 Olive Street, Okolona, MS
Okolona Fire/Police Dept, 106 E. Main Street, Okolona, MS
Okolona Public Works, 300 S. Silver Street, Okolona, MS
Okolona City Hall, 215 E. Main Street, Okolona, MS
National Guard Armory, 214 E. Monroe, Okolona, MS
Okolona Library, 321 W. Main Street, Okolona, MS
Okolona Electric, 201 N. Fleming, Okolona, MS
Egypt Voting Precinct, 253 CR 177, Okolona, MS
Poplar Springs 31819 Co. Line Road, Shannon, MS
Houlka Fire Dept, 205 W. Front Street, Houlka, MS
Houlka Public Works, 306 Walker Street, Houlka, MS
Chickasaw Adm Building, 146 CR 412, Van Vleet, MS
Van Vleet Fire Dept, 1595 CR 164, Van Vleet, MS
Sparta Opry House, 762 CR 416, Woodland, MS
Rhodes Chapel/Atlanta Fire Dept, 1158 Hwy 341 S. Woodland, MS
Houston Civic Center, 635 Starkville Road, Houston, MS (2 locations)
Houston Community Center, 115 Dulaney Street, Houston, MS (2 locations)
Houston Fire/Police Dept. 215 E. Harrington Street, Houston, MS
Houston Airport, 601 Airport Street, Houston, MS
Gladney Subdivision, 121 Wofford Drive, Houston, MS
Thorn Community Center, 106 CR 37, Houston, MS
Rhodes Chapel Fire Dept, 1324 CR 416, Houston, MS
Southeast Fire Dept, 1951 CR 406, Houston, MS
Pearsall Voting Precinct, 105 CR 91, Houston, MS
Anchor Voting Precinct, 628 CR 416, Woodland, MS
Woodland Fire Dept, 122 Market Street, Woodland, MS (2 locations)
Woodland/Sparta Fire Dept, 116 CR 86, Houston, MS
Chickasaw Co. Maintenance Shop, 500 South Gatlin Street, Okolona, MS
Chickasaw Co Courthouse, Okolona, MS, in rear of building

Forrest County: Forrest County Safe Room – 946 Sullivan Drive, Hattiesburg, MS 39401
Issaquena County: Issaquena Safe Room – 132 Court Street, Mayersville, MS  39113
Lee County: Joyner Elementary School – 1201 Joyner Avenue, Tupelo MS 38804
Lincoln County: Brookhaven Building – 1154 Beltline DR. Brookhaven, MS 39601
Monroe County:

West Amory Community Center, 111th Street
East Amory Community Center, Crump Boulevard
Amory Celebration Station Playground, Concord Avenue
Amory – Gilmore Foundation, 203 Gilmore Drive
Amory Police Department
Nettleton – Corner of Clay and Green Street
Nettleton – Near Nettleton Fire Department, Will Robbins Highway
Nettleton Ball Park, 4480 Union Avenue
Nettleton Water Dept., 113 Johnson Drive
Causey Park on Metts Road, Nettleton
Nettleton Fire Department, 113 Burt Street
Metts Road
Smithville High School
Hatley High School
Hamilton High School
Becker – Advanced Learning Center
Aberdeen – 715 E. Commerce Street (Public Works Building)
Aberdeen – Corner of Martin Luther King and Alice Street (MLK Park)
Aberdeen – Corner of Long and Dr. Re Woodruff Street (New burger Park)
Aberdeen – 101 N. Matubba Street (Fire Department).
Aberdeen Police Department is always open (125 W. Commerce St)
Airport Road at Vo-Tech center; 50057 Airport Road, Aberdeen

Oktibbeha County: Oktibbeha Co. SafeRoom – 985 Lynn Lane, Starkville, MS 39759
Rankin County: Rankin County Safe Room – 651 Marquette Road, Brandon, MS
Wilkinson County: 

Centreville Baptist Church – 325 West Main Street, Centreville, MS 39631
Centreville Town Hall Board Room – 1 Municipal Drive, Centreville, MS 39631

Winston County:

Louisville City Safe Room – 99 North Columbus Avenue, Louisville, MS 39339
Nanih Waiya Attendance Center – 13937 MS-397, Louisville, MS 39339
Noxapater City Hall – 131 W Main Street, Noxapater, MS 39339
Dean Park – 10647 MS-15, Louisville, MS 39339
Beat One Barn – 203 Poplar Flat Road, Louisville, MS 39339
Beat Three Barn – 5640 Brooksville Road, Louisville, MS 39339
Mars Hill Volunteer Fire Department – 4470 Mars Hill Road – Philadelphia, MS 39350
High Point Volunteer Fire Department – 1518 Highpoint Road – Louisville, MS 39339
MEMA is encouraging those to wear masks if they go to one of the shelter/safe room locations.
The list, which will be updated throughout the day, can be found on MEMA's website. 
During a Facebook Live session, Logan Poole, a meteorologist with the NWS Jackson, explained that tornadoes are likely across several counties today. He went on to note that the forecasted conditions could support EF-2, EF-3 or even stronger storms. 
Additionally, he warned of other  "destructive threats" such as baseball-sized hail in some areas. Hail this size is large enough to break holes in the windows of your vehicle, your home and cause harm to you if you get struck by it. With strong winds, the risk of flying debris also exists.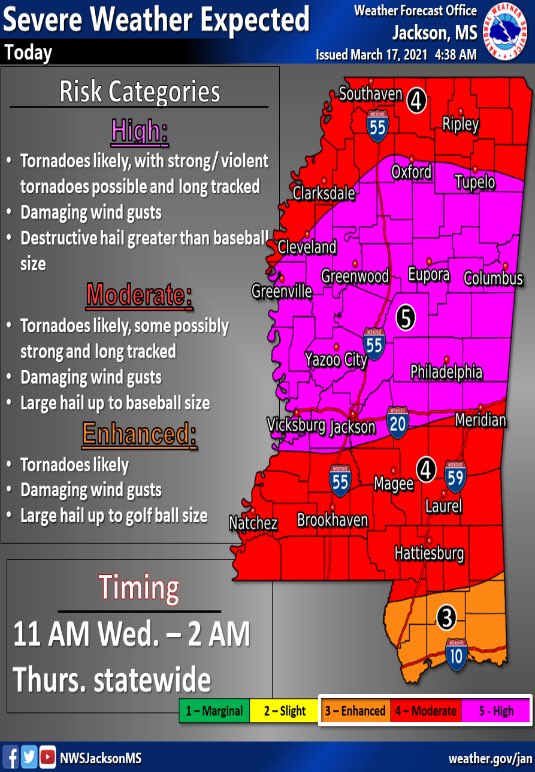 A tornado watch has been issued for the following counties.
Attala, Choctaw, Copiah, Hinds, Leake, Madison, Rankin, Scott, Simpson, Smith, Clarke, Jasper, Kemper, Lauderdale, Neshoba, Newton, Noxubee, Winston, Clay, Lowndes, Oktibbeha, Jefferson Davis, Lawrence, Lincoln, Marion, Covington, Forrest, Jones, Lamar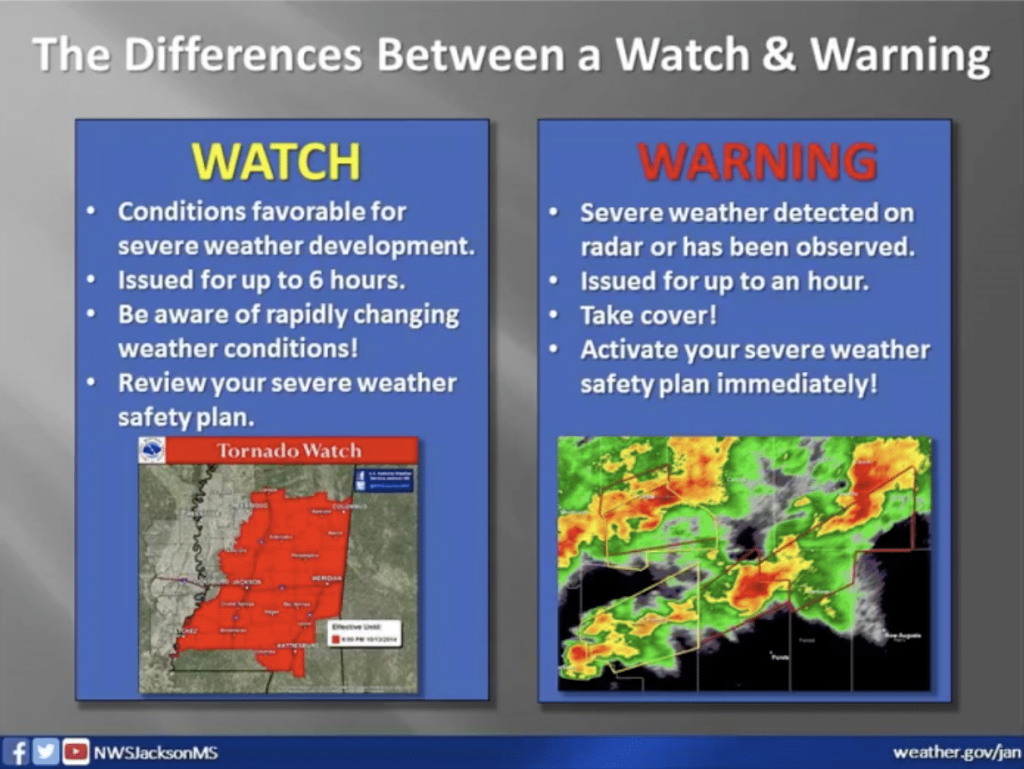 Stay up to date with all of Mississippi's latest news by signing up for our free newsletter here. 
Copyright 2023 SuperTalk Mississippi Media. All rights reserved.