Photo courtesy of Children's of Hospital (Twitter)
In the midst of the latest wave of the pandemic, more children are being admitted to hospitals across the state. 
According to UMMC, 28 children with confirmed or suspected cases of COVID-19 are currently in the hospital— the highest number of pediatric COVID patients at Blair E. Batson Children's Hospital since the pandemic began. According to the hospital system, 100% of these patients are unvaccinated. 8 children are currently in the ICU, 5 of whom are under the age of 12. This includes Avery Mitchell, the child pictured above in the photo shared by the hospital.
Wednesday, State Epidemiologist Dr. Paul Byers stated that while most children do not experience severe illness or complications, it can happen and that as transmission rises, so does the possibility of more severe outcomes. 
"One of my worries is that the more cases that we see, the more that is going to translate into hospitalizations and, ultimately, more severe outcomes in those children. We really need to make sure that we get them vaccinated," he said. 
Mississippi has confirmed five pediatric deaths. The latest occurred in Smith County as a 13-year-old passed away shortly after testing positive for the virus.
MSDH data shows that cases among children between the ages of 5-17 are rising more rapidly than any other age group.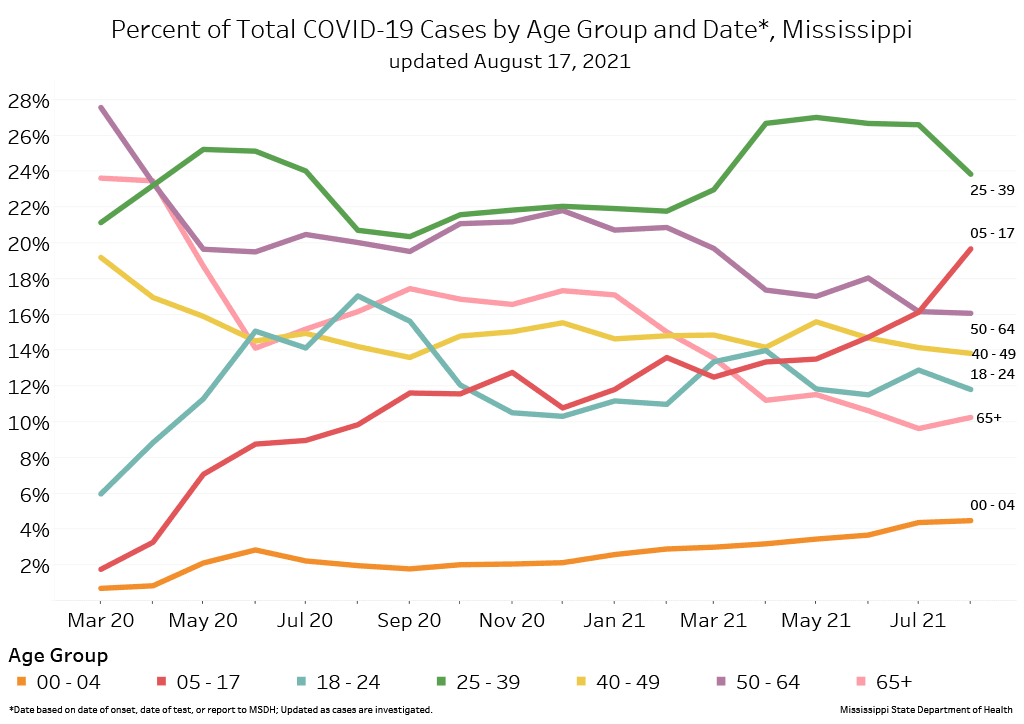 Currently, over 20,000 students are quarantined in Mississippi and 29 schools have shifted to virtual learning. The department offers several programs to offer both testing and vaccinations at schools. 
Stay up to date with all of Mississippi's latest news by signing up for our free newsletter here. 
Copyright 2023 SuperTalk Mississippi Media. All rights reserved.