Mississippi's only abortion clinic's request to block the state's newest trigger law on abortion has been denied by the Hinds County Chancery Court.
On Tuesday, Judge Debbra Halford handed down the ruling that stated that the complete banning of abortion across the state would continue to go into effect despite previous state rulings regarding abortion. The exceptions to the trigger law, which include confirmed cases of rape or if the mother's life is at risk, will also be upheld.
"These bans should have been blocked today. They violate the Mississippi constitution. People in Mississippi who need abortions right now are in a state of panic, trying to get into the clinic before it's too late. No one should be forced to live in fear like that," Hillary Schneller, senior staff attorney at the Center for Reproductive Rights, said.
The lawsuit was filed on the Jackson Women's Health Organization's behalf by the Mississippi Center for Justice, the Center for Reproductive Rights, and the law firm Paul, Weiss, Rifkind, Wharton & Garrison LLP just three days after the United States Supreme Court's vote to overrule Roe v. Wade.
One of the arguments made in the lawsuit is that the Mississippi Constitution grants individuals rights that exist separately from the United States Constitution, and that abortion is one of those rights according to the 1998 ruling in the Pro-Choice Mississippi v. Fordice case.
"The Mississippi Supreme Court's 1998 decision interpreting the Mississippi Constitution exists completely independent of the U.S. Supreme Court's decisions about the federal constitution. It is binding precedent," said Mississippi Center for Justice attorney Rob McDuff. "As confirmed by the Mississippi Supreme Court in that case, the decision about whether and when to have children belongs to individuals and families, not to the state's politicians."
In Tuesday's ruling, however, the court argued that the Fordice case was no longer valid in the Mississippi Constitution as it was mostly based on the overturned Roe v. Wade decision.
Governor Tate Reeves released a statement following Judge Halford's handing down of the decision Tuesday: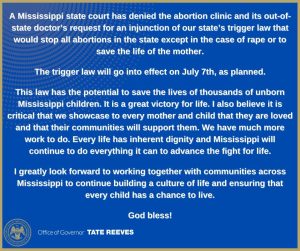 Now, the clinic plans to close its doors as the trigger law goes fully into effect on Thursday.
Mississippi's lone abortion clinic files lawsuit to prevent trigger law
Stay up to date with all of Mississippi's latest news by signing up for our free newsletter here. 
Copyright 2023 SuperTalk Mississippi Media. All rights reserved.